Tangjiawan wet market locates in Laoximen area in Huangpu District, near Tangjiawan Road, Zhaozhou Road and Ji'an Road. It closed on Feb. 24th, 2017 due to urban construction plan. The new location would be nearby, on Ji'an Road. Tangjiawan is one of the earliest wet markets in Shanghai.
Media Report: This wet market in Shanghai has been 114 years old. Let's say "Goodbye" to it.
Published by: WeChat public account – 东方网 (eastday021)
Source: https://mp.weixin.qq.com/s?__biz=MjM5OTkwMzc4Mg==&mid=2652017821&idx=1&sn=2d6b23f56986917680dfeb8084317bcf&chksm=bcd263d48ba5eac2525ccd588cbb577fe3abff49e2d6c30ef592c4f2c06e739c0ac5048010bd&mpshare=1&scene=1&srcid=0310snpPybWIKGReRyQSB1e6&pass_ticket=0acf64H7JjXKr83ZBvuY2YZXmW7iI4K8p8e4pH%2FXL%2F4nrje2QntnKIR%2FAbO6JDT3#rd
Following paragraphs are selected translated version of the post:
Vendors and residents are frustrated about the fact that the wet market is shut down. Vendor Mr. Zhu moved his stand from Ji'an Road wet market to there more than 10 years ago. "The vendors who I know, none of them leaves Tangjiawan wet market in the past more than 10 years," said Mr. Zhu. He looked at the pork stand and said, "During the Spring Festival, that vendor could sell 7 to 8 pigs, and the fish vendor can sell almost 150kg yellow fish at most. The business here is very good so that none of us are willing to go."
Mrs. Qian lives near Luxun Park( Hongkou). Every week, as part of life after she retired, she and her neighbors would go together to Tangjiawan with their small cart for grocery shopping, which has been last for more than 10 years. They took No. 18 Bus to Tangjiawan for fresh grocery, and then go to the E-Mart for milk, flavorings, toilet paper and etc. "We are used to this life. If the wet market is gone, where should we go for grocery shopping?"
Mr. Wang, who is 82 years old, also loves the wet market. Although he and his family moved from Tangjiawan to Zhabei Park, he and his wife always come back, not only for grocery shopping, but also reunion with their old neighbors.
"The popularity of Tangjiawan has become a unique local culture," said a retired high school teacher Mrs. Wang who always goes there to buy grocery. There are so many retired people nearby and meet each other at Tangjiawan. Many of them are strangers before, they start to know each other, and finally become friends. "If the wet market is gone, people have to go to different places. It's hard for them to meet each other again."
A wet market for more than a century: Tangjiawan
According to the local history documents, Tangjiawan wet market was built in 1903, which is the oldest wet market among all 22 indoor wet markets that were built before the liberation of Shanghai, even 17 years older than the famous Sanjiaodi wet market (Hongkou). At first, the wet market was a floor in wood structure.
According to other documents, the Chinese Sections of Shanghai decided to build an indoor wet market near Tangjia Lane outside Ximen (for today it's called Laoximen). One of the officer of the army, He Fenglin appointed the leader of a department which supervised the constructions in Nanshi (now Huangpu), Shanghai, Yao Zhizu to call for bids and be responsible for this project. Shanghai Wangjinji Construction got the bid and built Tangjiawan wet market. The wet market was in wood structure and was divided into more than 30 areas. Because they intentionally reduced the work and used inferior material for the construction, the building crazed after few years of use. One of the primary beam crashed and led to a severe accident in which more than 40 people died and 100 people injured. This was the most severe accident right after Nanjing National Government Shanghai City Hall was established. After that, the government paid for reconstruction for the armored concrete structure.
After Shanghai was liberated, the government reconstructed Tangjiawan for several times. In 1950s and 1960s Tangjiawan was like a wet market on the road. Vegetables, meat, fish, shrimp, crabs and etc. were directly put on the iron shelves covered by felt. Vendors and buyers were exposed to sunshine or rain – the environment of the market was not that good. The wet market moved into the current building in 1970s and 1980s.
It's said that to know a city, the best way is to go to the wet market. The hidden place in crowded city might look not as shiny as other places, even a little bit dirty, but the most basic and grass-root life is there. The relationship of people becomes closer because of "food/eating". Either vendors or buyers, their effort, achievement, joy or tears is connected by the small wet market, which adds another scene to the city.
(Origin: 新闻晨报: Shanghai Morning Post by Jiefang Daily, Mar. 25th, 2015)
Social Media Discussion
Weibo user @井蟾斋主posted on WeChat the full album for Tangjiawan wet market. From the dialog going under the original post, there is more about the life in lanes, back to around 1970s from people's discussion about some card games.
Source: WeChat public account:  井蟾齋迂語
https://mp.weixin.qq.com/s?__biz=MzIzMDA1Nzg0Nw==&mid=2649730703&idx=1&sn=63f22084aad7541a4dfa1bcbcde1069e&chksm=f0a23c97c7d5b581b2f549e537616519d2aa2039307d0c87d9b0778ca61dc6adc66dcd3f7849&mpshare=1&scene=1&srcid=0310014Nn3QKndxApGn4xvsR&pass_ticket=0acf64H7JjXKr83ZBvuY2YZXmW7iI4K8p8e4pH%2FXL%2F4nrje2QntnKIR%2FAbO6JDT3#rd
Content of the post:
@井蟾斋主:  The wet market with a hundred years' history comes to an end. After two years' struggle in moving due to city construction, most of the buildings in Tangjiawan area are turned down. The "isolated" island in this area, the Tangjiawan Wet Market, which was opened in 1903, have to shut down in a few days, on Feb. 23rd, 2017. Although people know that the market is to be closed in a couple days, the stand owners are still there for their business, and there are many customers. The lane between stands, which can only allow two people pass, is crowded. The scene is as usual –  people are selling vegetables, meat and fish in the last days of their business.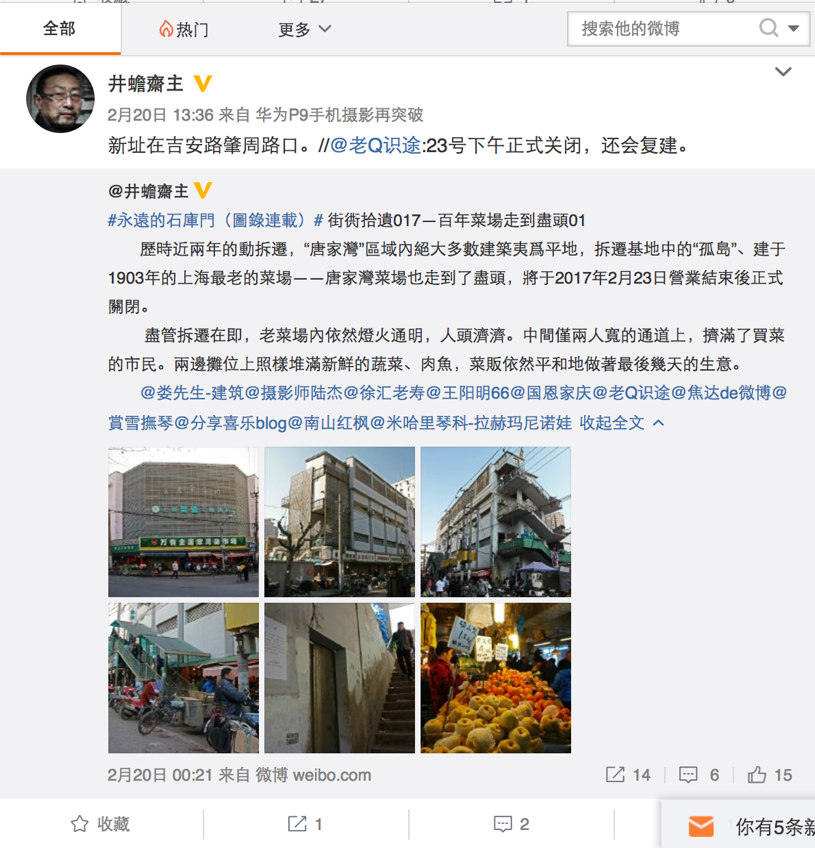 @老Q识途: It will be closed in the afternoon of Feb. 23rd, but there will be a replacement for Tangjiawan Wet Market soon.
@井蟾斋主: The new address will be at the cross of Ji'an Road and Zhaozhou Road.